We wish to share in your happiness during this time of preparation for marriage and throughout your married life.  As Christians we recognize the spiritual dimension of marriage.  We believe that marriage is the way God created for a man and woman to fully express their love for each other.   
 
Your wedding is more than a private contract or public exchange of promises.  It is also an act of worship in which you promise to love each other and receive promises of support from your families, friends and all of the church represented by the gathered assemble.

We encourage your guests to come, not just to watch, but to participate by offering you their prayers and their support in your life.  

This page, we hope, will help answer some of the questions you might have in planning a wedding here at St. John.


DOCUMENTATION:
According to diocesan policy, you are required to contact your parish nine (9) months or more prior to your wedding date.   Catholic parties must contact their church of Baptism and obtain a 'recent' copy of their baptismal certificate.   This certificate needs to be brought or sent to St. John as you begin your preparation.

ADDITIONAL REQUIREMENTS FROM THE DIOCESE OF LANSING ARE:
Certain forms are to be signed by the priest.

Permission must be obtained from the Bishop for an inter-faith marriage   Michigan law requires you obtain a Marriage License.  Applying for this license must occur no sooner than 30 days prior to the wedding but no later than 3 days prior to the wedding.  Bring your license on the night of the rehearsal.   You will receive a copy of the marriage license immediately following the wedding ceremony.

If one of you are not a registered parishioner (growing up here doesn't make you a registered parishioner!) you must have the parish you are registered at send us a letter of permission to have the ceremony here.   If you are registered at another parish you should follow their marriage preparation requirements.
MARRIAGE PREPARATION:
Our Marriage preparation process follows the process given by the Diocese of Lansing.  After an initial meeting with a priest to fill out the MA Form and any other documentation that might be required, there are three components to our marriage preparation.  Our wedding coordinator will assist you throughout the process:
Take the FOCCUS Inventory (There is a $15 dollar fee which can be submitted to Sandy, our Wedding coordinator) 

Attend three Natural Family Planning (NFP) Classes.  These are offered at St. John.

Attend either an Engaged Encounter Weekend or a We C.A.R.E presentation

We C.A.R.E: Genesee and Shiawassee 810-232-9950 Livingston 517-545-5944
For a compelling reason the priest may allow you to do your preparation online. Currently https://catholicmarriageprepclass.com/ is the only program we accept.

You may do your preparation through another parish if you live out of this area.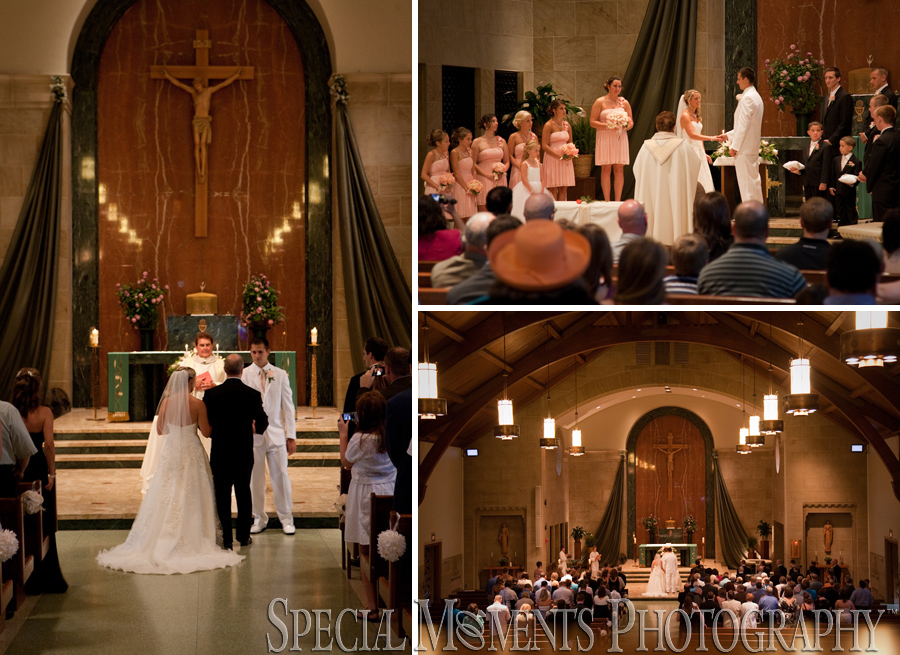 WEDDING CELEBRATION:
Ordinarily a priest or deacon from St. John Parish will officiate at your wedding.  Other clergy are welcome to assist in the celebration.  Arrangements must be made with the priests at St. John if this is to occur. When both parties are Catholic the ceremony must be within a Mass.

Wedding Ceremony Coordinator: 
Our Coordinator, Sandy Shaker, will be your contact person after you have met with the priest and after Father has approved your wedding date and it is scheduled on the church calendar.  You may contact her with any wedding questions or concerns.   

The wedding coordinator, along with the presider, will help choreograph the wedding ceremony, processional and recessional.

Wedding Rehearsal: 
The rehearsal is run by the coordinator. She will instruct the bride, groom, wedding party, parents, grandparents etc, when they are to walk down the aisle and where they will be sitting in the church.  She will practice the readings for Mass with the lectors, give direction to the gift bearers, and point out the bridal room and the groom's room. After going through the rehearsal, she will answer any questions, making sure everyone is comfortable in what their role is for the actual wedding day.

Day of the wedding, coordinator will:
Show the florist suggested areas for arrangements, unity candle etc.

Make sure the photographer knows areas allowed for taking pictures.

Instruct the ushers when it is time to seat the guests.

Act as liason with the priest and musician, instructing when to start the music and the ceremony.

Line up the wedding party for their entrance down the aisle.

Make copies of the marriage license, one for bride and groom and will send a copy to the state.

Handle any church emergencies that may arise.

Will be in church after ceremony for any questions you may have.

CHURCH OFFERINGS:
The suggested stipend, or financial gift for the priest or deacon who will officiate at your wedding, is $200.  Any persons who use our facilities and are not members of our parish will be asked for an additional $200. Our Wedding Ceremony Coordinator is to receive a stipend of $100.  She will run and organize the rehearsal and the wedding ceremony. 

If you have a Nuptial Mass, additional stipends are for our altar servers and the normal gift per server is $15 (usually there are two servers), and Sacristans a stipend of $50. The inability to make these offerings will not exclude someone from being married at St. John Parish.  These arrangements must be made prior to the rehearsal.  If a couple invite other clergy to participate in their wedding, they may wish to consider an offering to these individuals and that would be handled personally.





MUSIC:
Please contact Freeman Tucker, St. John's music minister, as soon as you have confirmed a date so that he can reserve that date also. The stipend for his services will be $250.00. This will include meeting and helping the couple select the music that will make their wedding special.  There will be an additional fee of $35.00 if he has to work with any other soloist or instrumentalist to compensate for the extra preparation that will be involved.
Freeman Tucker
810-373-0688
Freeman@stjohnfenton.org

Freeman will also email or mail you a list of song suggestions that you can look over before your meeting with him and help you with your wedding program, if you choose. 

You may choose another experienced musician for your wedding. That musician and all music must be approved by the priest or Freeman.
*If an outside musician or videographer would like to use St. John's equipment there is a $500 dollar deposit.  It costs the church $500 dollars to have the system reset its settings if they are changed.

FLOWERS:
Flowers are not required, although most wedding ceremonies have them. Two arrangements are adequate.   They should be positioned so that they do not distract or interfere with anyone's vision of the altar.  Flowers may not be placed on the altar itself. Please advise your florist: flowers should not block the view of the altar or ambo, the celebrant will need freedom to move around the entire altar and sanctuary.  If you choose to put flowers, bows, etc. on pews please use something to attach them that won't damage the pews (NO TAPE). Please note that any flowers left in the church after the ceremony will be used for the weekend liturgies.

CANDLES:
A simple marriage or unity candle can add to the dignity of the celebration but it is not required. If you choose to have one, it is your responsibility to purchase the unity candle as well as the 2 smaller candles.  It is advisable that your florist have the candles positioned in a floral arrangement.

PHOTOGRAPHER:
A seasoned photographer should be sensitive to the liturgy and the church setting and should use appropriate discretion as to his/her picture taking. Please have your photographer and/or videographer consult with the wedding ceremony coordinator BEFORE the liturgy.

RECEIVING LINES:
It is suggested that when the bridal party processes down the aisle after the ceremony, they immediately go up into the choir loft and line up along the railing.  Your wedding ceremony coordinator will be there for assistance. When the guests are leaving the ceremony the bridal party can now wave to them as they exit the church (this makes a great photo op).  When all the guests have exited the church, the bridal party will come back into the church proper and have any pictures taken on the altar.  You should discuss any other options you may want with the wedding ceremony coordinator. The guests waiting outside may only use bubbles to greet the bridal party when they are through with the pictures. 

BRIDE AND GROOM ROOMS:
St. John has a bride's room and a groom's room in our church vestibule.  Your wedding ceremony coordinator will show you the rooms and direct you accordingly.   

CLEAN UP:
Since most of our weddings are scheduled close to other services here at St John, we would ask that you would have someone take care of removing all personal belongings and flower boxes from the bride and groom's rooms and remove any attachments that are on the pews.
REMEMBER OUR BUILDINGS ARE SMOKE FREE

NO ANIMAL/PET MAY TAKE PART IN THE CEREMONY 

THERE IS NO ALCOHOL ALLOWED ON THE CHURCH GROUNDS

NO RICE, CONFETTI  OR BIRDSEED

ANYTHING YOU BRING INTO THE CHURCH SHOULD BE REMOVED

THE BRIDE'S AND GROOM'S ROOMS NEED TO BE CLEANED AND LEFT AS THEY WERE FOUND

If you intend to stay with St John Parish, you should register as a married couple in our parish office after your honeymoon or you can always pre-register during your final meeting with the priest/deacon before your wedding.